I originally installed Starlink in June of 2022 after losing my BT business fibre connection (over £300 per month) and deciding I didntl particularly like the offerings of either BT (2Mbps – 4Mbps) on so called fibre to the door, and I just could not bring myself to sign up to Virgin and their constantly changing prices.
At the time I when I ordered it was £499 + Import Taxes to actually purchase the equipment, and from memory I think it was £90 per month, this has since come down to £75 per month for the standard residential service, but I do get over 200Mbps download and around 14Mbps upload speeds, with a wifi speed of around 67Mbps downstream and 93Mbps upstream (this varies depending on where in my wifi mesh I happen to be).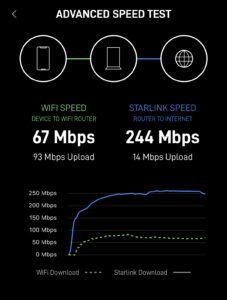 In addition to the actually main starling hardware, I also needed to pickup the Starlink ethernet adapter so I could plug the Starlink router into my main switch and from there use it as Internet for my entire network. I also need to buy a pole and mounting brackets which I got from Screwfix, and the Starlink Pole mount which I got from the Starlink shop,
My Dish is installed on a Pole on the outside wall of my office and protruding around 6ft above the office roof, and has a 99% unobstructed view of the sky.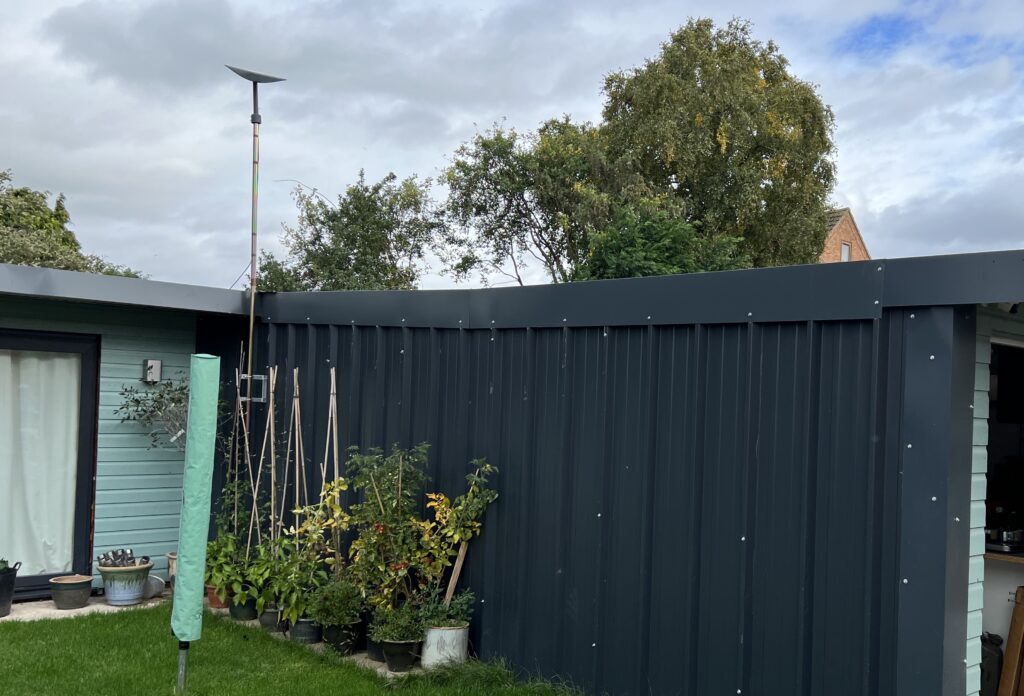 Now I consider myself to be a fairly heavy user of the internet, I have a Ring Alarm System with 3 cameras and multiple sensors, Tado Heating Controls, Philips Hue Internet Controlled lighting throughout my house and the Office, as-well as multiple hard wired Mac computers, 2 iPhones, 2 laptops, and an iPad, and at the moment 3 wall mounted TV's which each have 2 connections, 1 wired ethernet connect to the TV and another for the Apple TV Streaming box. Much of the above is hard wired via 2 24 Port Netgear POE switches (1 in the office and 1 in the house) with a 50M Cat6 connection cable buried underground to connect the 2.
So all said it is pretty critical that my internet connection is both stable and fast, and Starlink delivers on both of those fronts. The one place that Starlink doesn't perform and luckily I have not yet had the pleasure of 1st hand experience is in its customer support, there pretty much isn't any, apart from email and waiting around 2-3 days for a response. And remember when you ordered starlink you bought the Kit yourself it's not rented so if your kit fails and your out of warranty you will be fishing round the Starlink shop for a new router or new dish and that can get expensive, with a replacement router coming in at £143.
There is some help around trough in the shape of a the Starlink UK Owners Facebook Group where advice is plentiful in solving most minor issues, but still for anything major you will have to face shouting into void which is customer services.
But what more can I say other than the system has been faultless so far and it has been in constant use since I got it some 18 months ago. And yes I agree £75 per month is a lot of money for broadband, but then again It's fast, It's reliable, and your dont have to deal with BT's bullshit or Virgin Media's constant price hikes.